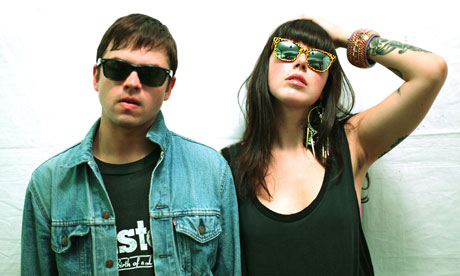 Sadly I didn't have this blog when Sleigh Bells released their first album, Treats. If I did have this blog then it may have been called "I like Sleigh Bells, a lot!" – so I guess it isn't very sad after all. That would have been a terrible name.
Luckily, I am able to tell everyone how much I like Sleigh Bells now because they have recently released a new album, Reign of Terror. If Sleigh Bells do anything right it is creating heavy, driven guitar hooks. Don't believe me? Take a listen to 'Born to Lose'. See, I told you so.
This is what first caught my ear when I had the privilege of listening to Treats, especially 'Riot Rhythm'. Sleigh Bells have an uncanny way of exuding cool. Everything from their lyrics to their "I don't give a what", all-the-way-to-eleven, loud drums and guitars. It is what I imagine today's pop music would be like in a postapocalyptic world where the only way to survive is gladiator style battles in coliseums. Sleigh Bells would be the soundtrack to introduce every new fighter and everyone would love it.
There is nothing relaxing or chilled about Reign of Terror. It is enjoyable and carefree. Definitely worth getting.
Enjoy.
Sleigh Bells – Comeback Kid from Mom+Pop on Vimeo.